Year 7 Rugby Success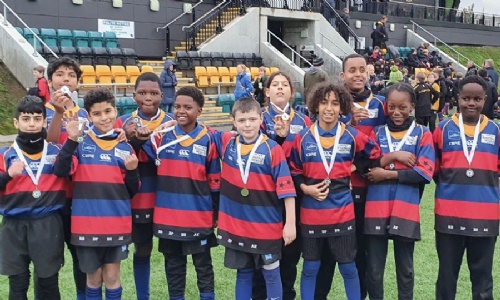 The Year 7 boys played in the Middlesex Under 12 Rugby Festival on Friday 3rd December, finishing as runners-up in the competition. The tournament consisted of thirty two schools with ninety matches played and over three hundred boys taking part.
The boys played Twyford School in the first round of matches and won 3-1. They then played St James School wining again, scoring 3 tries to 1. Sadly, the boys lost their final game of the pool stages 2-1 to Greycourt School, however still managed to top their pool, proceeding into the afternoon groups. The boys played Vyners first, winning the game by scoring 3 tries to 1. The next game was against Haydon, where they amazingly won again 1-0, meaning it was now all in to play for in the final match against Ealing. The winners of this final game would take home the gold medals! The boys anxiously waited for the game to start, tired from the efforts that had already been stretched out over the course of the day. Despite playing really well, the boys missed one tackle that lost them the match by a devastating 1-0 result.
We are so proud of our team. Considering none of the boys had ever played rugby at the start of this half term, they all played outstandingly well, and the organisers and opposition coaches were full of praise for our team. Well done boys!