POST 16 Trip Residential to Berlin, Germany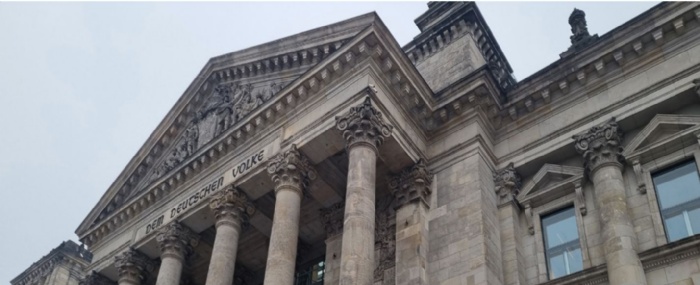 From 5th to 8th December 2022, 27 Post 16 students embarked on a residential trip to Berlin. The purpose of the trip, linked to A Level Psychology, was to expand and broaden the students' learning through visiting historical locations, guided tours, museums and places of interest within the city of Berlin. Students explored the conflict between obedience to authority and personal conscience, the history of authoritarian states and the persecution faced by minority groups as well as conformity influence and why people may follow dictators.
Day 1 required an early start as the group all met at Rosedale College for a 2:00am departure. Upon arrival in Berlin the group headed straight for the historic government building, the Reichstag. The group then walked to the Brandenburg Gate, the memorial to the murdered Jews of Europe before finishing the day at the Hard Rock Café.
Day 2 started with a guided tour of Sachsenhausen Memorial and Museum, a Nazi concentration camp just outside of Berlin used from 1936 until April 1945. After Sachsenhausen the group then travelled to the Berlin Olympiastadion for another guided tour. The Olympiastadion was the home of the 1936 Berlin Olympics, the 2006 World Cup Final and the 2015 Champions League Final. The final destination of the day was the House of Wannsee Conference, the lakeside villa where top Nazi officials planned 'The Final Solution'.
The first stop on day 3 was the DDR museum, an interactive museum detailing life in the Soviet East German 'Deutsche Demokratische Republik'. After the DDR museum the group proceeded to travel to the Mall of Berlin for a visit to its extensive food court for lunch, with food ranging from Vietnamese to vegan, followed by a guided tour of the 'Palace of Tears'. The 'Palace of Tears' was a former border crossing point between East and West Berlin, with its name deriving from the tearful partings that took place in front of the building between western visitors and East German residents who were not permitted to travel to West Berlin. The group then visited the Berlin Wall Memorial before heading deep into the 'Gesundbrunnen' underground railway station, a subterranean labyrinth used as a civilian bomb shelter during the Allied bombing raids of Berlin. This was to be the group's final stop on the tour before heading home the next day. Overall the experience was incredibly positive with the students expanding their knowledge of their current subjects whilst also getting the chance to travel to another country.