Winter Festival Night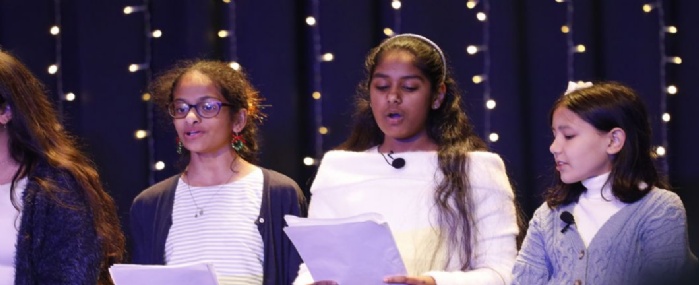 Last Thursday on December 8th we were treated to some talented and hard-working music students who serenaded the TRHAT community.
We firstly had Poppy, Raphael, Ariyana, Sahil, Josias, Avneet, Harun, Emanuela and Valentin, a charming chorus of Year 7 students, singing in French to start the night. We then had Taegan, Navpreet and Munera mesmerising the audience on piano and then Tawana enchanting the audience on violin. Then, Rosedale rockstars Mehmood on the drums, Scott
on guitar and then Mahbod on electric guitar rocked out on stage. Simar also lulled the audience into contemplation with her captivating guitar solo. This was followed by Year 9 music students Evelyn on piano, Kysha on piano/guitar, Mahan on drums and Nevayah on solo guitar playing Christmas carols, much the audience's delight.
Following this were the ethereal voices of Anya, Klaudija and Riti singing respective solos followed by the angelic choir comprising the melodious voices of Mehmood, Nina, Tawana, Melody, Anya, Dhwani, Isabella and Elaine. As an extra treat, Ms. Mancas sang some solos for the audience.
The audience were wonderful and, in apt -3 °C weather, the 2022 Winter Festival was a resounding success. Thanks for your continued support for the Performing Arts alliance!