Basketball Success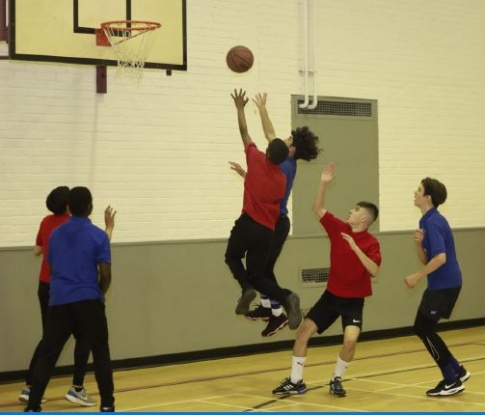 Rosedale College hosts the Year 10 and 6th Form Borough Basketball Tournaments
At Rosedale College, we have utilised our outstanding sports facilities and clubs, and have prospered therein, as well as having had some tremendous successes in basketball towards the end of this term. On Wednesday 16th and Wednesday 23rd March, we were lucky enough to host the Year 10 and 6th Form Borough Basketball Tournaments at home at Rosedale College.
The Year 10 team started the tournament very strongly winning against Hewens College, Guru Nanak, Douay Martyrs and Vyners with a 1-1 draw against Haydon, seeing us proceed into the semi-finals against Oakwood. The semi-final game started with Rosedale dominating, students creating a strong offensive triangle and maintaining their control with outstanding teamwork to win the game by 8 points - taking us into the finals!
The final game against Queensmead came as a true challenge for both teams who had a strong passion to win. Rosedale started the game with half-court press moving back to 2-3 zone defence where our players displayed unfamiliarity to perform in a full-court environment. The first half finished with Queensmead leading the game with one point, showing an advantage in penetrations against our defensive formation. Our players however performed under full-court pressure and focused on fast breaks and shoots, but physical and mental fatigue caused an interruption into the fluency of their performance in the last four minutes of the game to present the championship to our opponents. Well done Year 10, what an amazing tournament - we are so proud of you all.
The 6th form students performed for the first time in the borough's tournament, where the structure of the team also included our Year 10 and Year 11 boys. The team gained first-hand experience playing against very talented players from different basketball academies, resulting in two games won, one game drawn and five games defeated. An amazing outcome taking into consideration that some of these teams have the intention of entering the game in the professional world! Well done to you all – remarkable sportsmanship!